Musa nana
Family:  Musaceae
Scientific name:  Musa nana, Musa acuminata
Common name:  Dwarf banana
Native of:  Southeast Asia
Greenhouse location:  Room J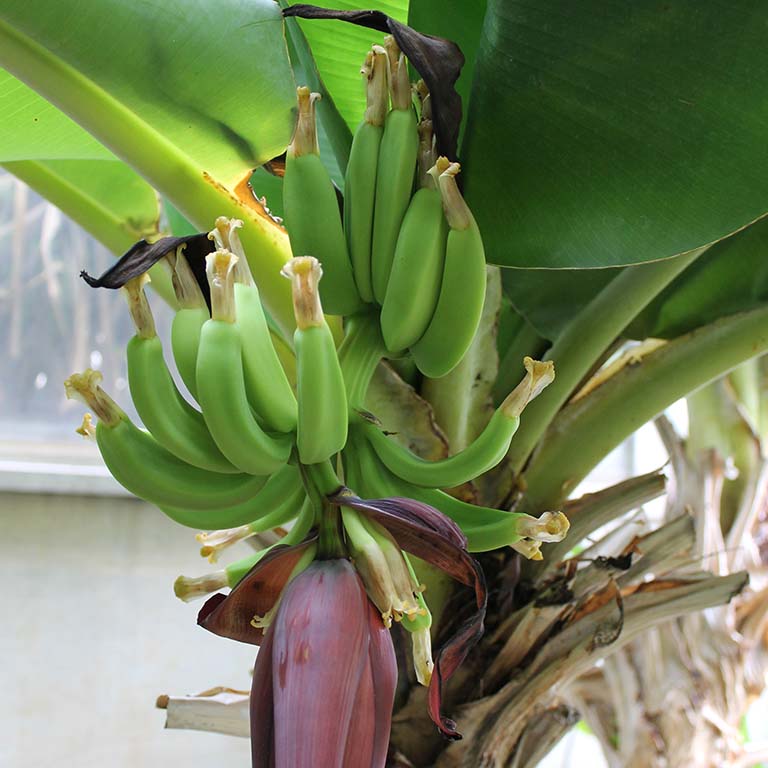 Many of the bananas produced for human consumption come from Musa nana, also known as M. acuminata.
M. acuminata is an evergreen perennial—not a tree. The trunk (pseudostem) is formed by tightly packed leaf sheaths emerging from the corm (underground swollen stem that serves as a storage organ for the plant).
The inflorescence (flower spike) grows from the trunk. The yellowish female flowers form at the base. The male flowers appear later from within the large purplish bracts at the end of the spike. The female and male flowers mature at different times on the same plant, which avoids self-pollination. The long "fingers" are the female flowers' ovaries which will ripen into bananas.
M. acuminata is one of the earliest plants to be domesticated by humans for agriculture.
Another species of banana, M. rajapuri, can be found nestled in the southeast corner of Conservatory Room P.