Agave americana
Family:  Asparagaceae
Scientific name:  Agave americana
Common name:  Century plant
Native of:  Mexico, southern United States
Greenhouse location:  Room D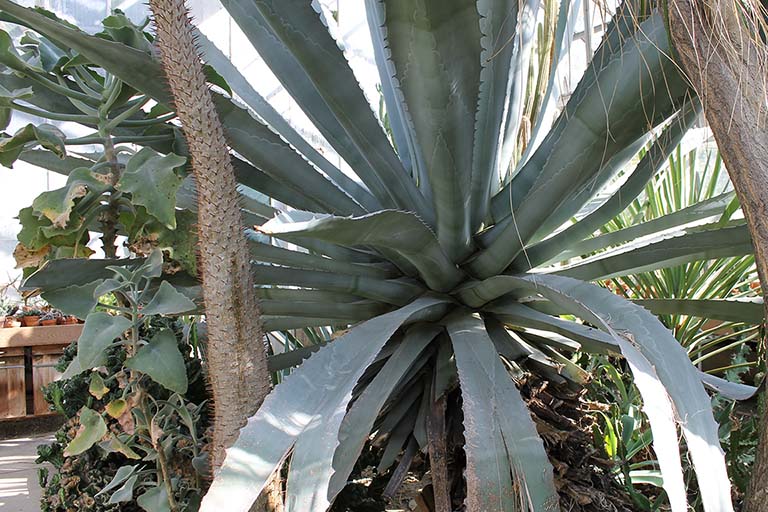 Although it's nicknamed the century plant, the longevity of Agave americana is typically 30 years as opposed to 100 years as the name suggests
The flower stalk of Agave americana, which the plant sends up at the end of its life, is an impressive structure reaching up to 30 feet tall and covered with yellow flowers. After pollination occurs, the main plant begins to produce seeds and forms plant shoots at its base. After flowering, the main plant will die, leaving the plants that formed around its base to replace it until they mature and the process repeats itself. Plants that flower only once and then die are referred to as monocarpic.
A. americana is a chiropterophilous plant. Chiropterophilous means "bat loving" (derived from Chiroptera, the name of the scientific order to which bats belong). In its native habitat of Mexico and the southwestern U.S., the A. americana's blooms are mainly pollinated by bats.
This is one of several Agave species that can be used in making tequila-like liquor. (True tequila is produced from Agave tequilana, commonly called blue agave.) The nectar from the plant is marketed as a natural sugar with a low glycemic index due to its high fructose content.
Fibers within the leaves are used to make ropes and coarse fabric. A popular artisan technique in Mexico and Central America called piteado uses thread made from A. americana fibers to embroider designs onto saddles and leather accessories such as sandals, head bands, and belts.
Agave americana "swan song"
Our large century plant (Agave americana) that had been the center piece of Room D has bloomed and died. A species that blooms once and then dies is referred to as monocarpic. Our plant was estimated to have been over 50 years old.
It began sending up a flower stalk in March 2019. The stalk grew to a height of at least 30 feet (which required removing a section of glass to let the stalk pass through the ceiling), producing horizontal branching near its top. Greenish-yellow flowers 3 to 4 inches in length bloomed in panicles (loosely branched clusters of flowers) at the branch ends.
The flower stalk was discovered bent over onto the greenhouse roof on July 22, 2019—most likely due to the previous night's storm and the stalk weakening as the plant died. Greenhouse staff left the stalk on the roof to see whether some of the flowers would set seed.
The stalk and plant were removed on November 11, 2019. Some of the seeds were planted. Greenhouse staff replaced the old plant with one of its shoots that had been separated and potted more than 16 years ago.
View the progression of the bloom . . .